In recent years, biomimetics research learning from living creatures has been activated around the world. In the world trend, in the opposite direction from the conventional biomimetics based on "Material developments using Nanotechnology," the Wide-area biomimetics of Urban planning and Architecture learning from forests, oceans, and ecosystems, is particularly active in Europe. Therefore, based on the present biomimetics network in Japan, it is significant to further deepen interdisciplinary the exchanges on wide-area biomimetics. In this Workshop, we then would like to use this opportunity to build a new network and improve the environmental conditions with the following objectives. The purpose of this workshop is
- To exchange information between researchers from 2 domains (Biomimetics of architecture and materials) and to make a network (in Japan, there is no organization like CEEBIOS).
- To exchange opinions on architecture in Biomimetics between Japan and Europe.
- In particular, to summarize the current global status and future vectors in these area.
- To discuss among the industrial, governmental and academic worlds, and make a network.
- And this will lead to the future development of this area, the next largest budget application, and future themes.

近年、生物に学ぶバイオミメティクス(BM)研究が世界中で活性化している。世界潮流では、従来の「ナノテクによる材料開発」とサイズでは逆方向の、「森林・海洋・生態系に学ぶ都市計画・建築」という広域BMが特に、欧州で活況である。そこで、わが国のBMネットワークを踏まえ、広域BMを主体とする分野間交流をより一層、深める意義は大きい。本Workshopでは、以下の狙いの下に、新たなネットワーク構築、また環境整備を行う契機としたい。
-材料系バイオミメティクス関係者および関心のある多くの人々が、都市・建築系バイオミメティクスの現状を俯瞰・学習する。
-両者のNetworkを作る。
-産官学で、現状整理(世界動向)と、意見交換・集約を行う。
-これを以て、将来の本分野発展(や申請)への契機とする。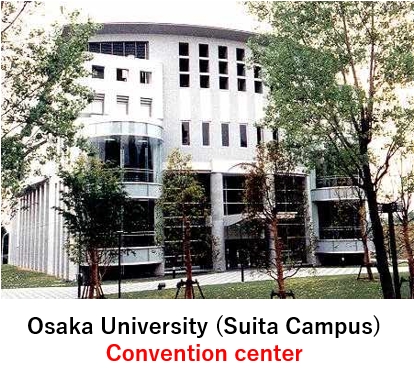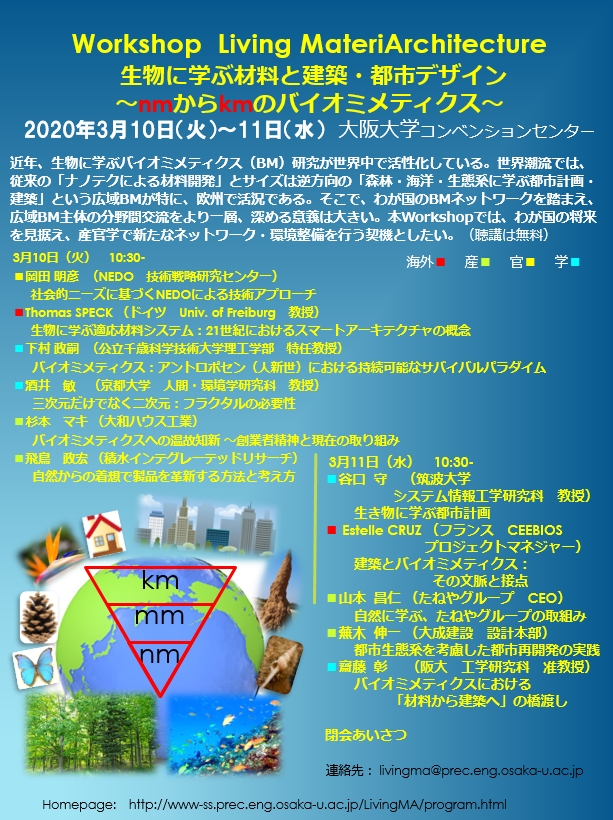 ↑チラシはこちら